Well, here we go, another blog about our house! I do apologize that the blog of my life has turned into "omg, We're buying a house! Let's plan every little inch of it!"  I am a worrier, and I worry less if I plan, so therefore, I am planning the heck out of this house.
It also helps if we have everything planned, we can figure out budgets and whatnot easier.  We are trying to budget every little cent and figuring out what we decide to do NOW and what we can wait on. We've just decided to not paint the spare bedroom unless the paint is free or something, as it's another separate color we would be painting it. If it's about 30 bucks a can, why not save that 30 bucks and put it towards our air conditioner check? or put it towards termite/pest services?
Yeah, that's the type of planning we do.  I'm also price shopping for everything. (Side note, HHGreg has been great so far to us. They price compare and are willing to work with us.  Free delivery and free hall-away, so it's awesome!)
Well, without further ado, I would like to announce the theme for our living room.  Yes, we now have a theme.  And we've decided on the blue couch, at least I feel the blue couch would match with it.  It all started with the rug. We wanted something that was simply us. Not old couple, just us. So we found the rug and we can afford it!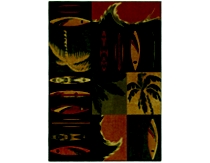 Born is our tropical/Disney theme!  The couch is a slightly different shade of blue, but we think it will work…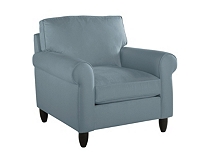 Well, that's the chair in blue anyways. Do you think it will work? Please comment and let me know!
Then we discovered these shelves from PBteen (would be a splurge, so possibly looking into making our own since my husband is handy!) and the themed continued…
Then we discovered these lamps.. from Bed, Bath, and Beyond…
And it all tied together nicely. It will definitely be us with the Disney stuff we have in there, it will hopefully all tie together and look as great as we are imagining.  Please feel free to share your opinions on it!